You are here
Using Storify to Analyze Poetry
Primary tabs
Submitted by

Ptacek

on Sat, 09/15/2012 - 16:14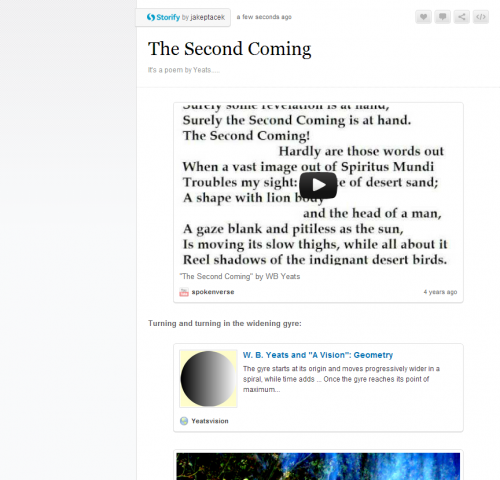 Image Credit:
Screenshot of Storify page by Jake Ptacek
Brief Assignment Overview:
Students often conceptualize poems as monolithic objects from the past. This lesson plan helps encourage them to visualize and conceptualize the content and influence of a poem in different registers.
Pedagogical Goals - Rhetoric:
Pedagogical Goals - Literature:
Pedagogical Goals - Writing:
Pedagogical Goals - Digital Literacy:
Additional Pedagogical Goals:
The goal of this exercise is to encourage students to transform their relationship with the words on the page, to see a poem as a living cultural argument rather than a set-in-stone text. It is also designed to encourage students to think about poetry as different kinds of media.
Required Materials:
Students will require access to a computer, whether in class or outside of the classroom.
A computer and projector.
A Storify account.
Timeline for Optimal Use:
Full Assignment Description:
Poems are not simply one-time literary events. Instead, they make arguments about the culture a poet lives and practices her art in as well as arguments about the culture within which the reader lives. In this assignment, students will create a multimedia presentation using Storify to help elucidate a poem's meaning, but also to examine how that poem appears in our contemporary media culture. Storify helps them track appearances of the poem as a whole (or of selected lines) in social media.
This helps students see the present-day influence of a text. It also allows them to provide line-by-line annotation and to think about the poem as a visual or audio media event, rather than simply words on a page. Students may also provide interpretaive material: music from the time period, photographs or videos that reference images, characters, or places in the poem.
Storify provides an excellent platform for this analysis because it allows users to search social media like Twitter, Facebook, and Instagram, as well as more conventional sites like Google and Youtube, for materials related to their project. This allows students to create a visually appealing presentation of the poem to their classmates with relative ease.
Suggestions for Instructor Preparation:
Familiarize yourself with Storify beforehand; be prepared to set aside some class time to create and navigate accounts for your students.
Instructions For Students:
This project will form the basis of your in-class presentation, so please plan ahead accordingly.
In this project, you will create a visual presentation of the poem you have chosen using Storify. You will type out the entire poem. For each line of the poem, you will find at least two images, quotations, websites, videos, or songs that will help us elucidate or make sense of the poem you have chosen. They may comment directly on the line in question, or offer a representation of a figure, place, image, or theme within that line, or they may have a more oblique relationship to the line in question. However, you must be able to demonstrate the relevance of each component to our understanding of the poem itself. However, you are free to--and encouraged to--be creative and exploratory in your creation of a Storify page.
You will present your post to the rest of the class in our penultimate week in a 6-8 minute presentation.
Evaluation Suggestions:
This assignment is still in the experimental phase, so I have not yet evaluated any student posts. It will be part of their presentation grade, which is determined by both content and professionalism of delivery.
Notes on Reception, Execution, etc.:
Again, this is still in the experimental phase. Undoubtedly I will need to make the "Student Assignment" directions clearer and more specific.
Additional Resources:
My thanks to Cate Blouke, who first demonstrated the power of Storify to me.
Course Description:
I am currently testing this assignment in my E314L: Reading Poetry course.
What's so special about poetry? What makes it so popular throughout history? Why do figures as different as Percy Bysshe Shelley and Geoffrey Hill, Aristotle and Heidegger, John Stuart Mill and T. S. Eliot—even Bob Dylan and Morrissey—care so much about it? Why has it always been central to the practice of literary criticism? What does it mean to write a poem, to read one, or even, as Mary Poovey suggested, to live inside one? And what is a poem, even? Is it a matter of form, or function, or technique?
In order to begin answering these questions, we will investigate very different lyric poets and poetry—including, for example, Sappho, nursery rhymes, Shakespeare, John Donne, William Wordsworth and Samuel Taylor Coleridge, Christina Rossetti, William Butler Yeats, and the Smiths—with an eye to both the similarities and differences in their poetical practices. Each of these poets returns again and again to the lyric form—to express their fears about war, their anxieties about sex, their relationship to nature and to cities, trying to make sense of the world around them.
No prior knowledge of poetry or critical theory is required. As we progress, we'll develop as a class a set of critical and formal vocabularies to help us make sense of the poetry. We will focus on developing literary analysis and research skills, and to that end we will read both classic and modern pieces of criticism in order to give us conceptual models for our own academic work. We'll also work on honing our research and writing skills, and use the Oxford English Dictionary to help us make sense of how historical changes in the English language affect poetry and our understanding of it. These skills will prove useful not only to English majors, but to students of many disciplines