You are here
Analyzing Ethos Using Twitter and Storify
Primary tabs
Submitted by

Cate Blouke

on Mon, 11/26/2012 - 09:43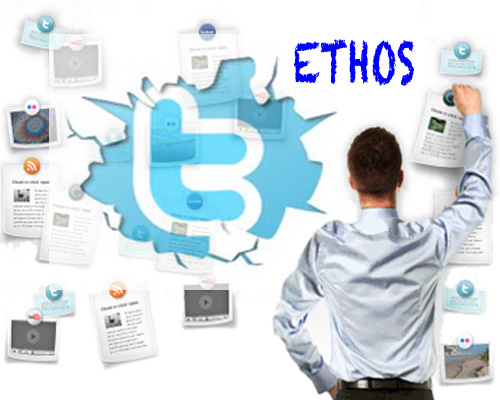 Image Credit:
Storify Twitter Mash-up by Cate Blouke
Brief Assignment Overview:
Using the multimedia curation program, Storify, students compose a short writing assignment analyzing an "author's" ethos based on his or her Twitter feed. This demonstrates the ways in which ethos is cultivated over time and in a variety of different ways.
Pedagogical Goals - Rhetoric:
Pedagogical Goals - Writing:
Pedagogical Goals - Digital Literacy:
Additional Pedagogical Goals:
Ethos, visual analysis, digital literacy,
Required Materials:
Students only need a computer with Internet access and to sign up for a free Storify account.
While a media console with projector would be helpful to demonstrate the online programs in class, this is not strictly necessary for students to complete the assignment.
Timeline for Optimal Use:
Full Assignment Description:
This assignment is designed to encourage students to think about the ways in which "ethos" is cultivated over time and in a variety of sometimes subtle, sometimes overt ways. Instead of analyzing the ethos presented by an author, journalist, or other professional writer in a long-form piece of writing, students examine the ways in which ethos emerges from the short-form, long-term writing of a person's Twitter feed.
This helps students to recognize that ethos is not something that is "only" cultivated by politicians or authors, but something that we all present in one way or anther - particularly in online environments. As such, this may be another avenue for initiating a conversation about online identity and the ways in which we present ourselves on in the Internet.
Storify offers a unique platform for this short writing assignment as it allows students to literally pull pieces of multimedia into a single platform and comment on each piece of evidence. This allows for a more visually interesting analysis of very short pieces of writing and for a visual analysis of the person's profile image or twitpics.
Suggestions for Instructor Preparation:
Familiarize yourself with the Storify platform and demonstrate how to use it. I would also encourage showing the students an example, and I've included a student example in the "Additional Resources" section below.
Instructions For Students:
In this assignment, you'll be analyzing the ethos of a stand up comedian based on his or her Twitter feed. You'll compose your analysis using Storify and pull evidence for your assessment directly into the Storify piece.
Essentially, this assignment asks that you make an argument about what kind of comedian this person is, basing your argument on their presentation of ethos.
The following are the kinds of questions you'll want to consider, though you will need to find ways to synthesize your answers into a coherent narrative. These are meant as brainstorming questions and are typed in no particular order - so for your narrative, it will be up to you to order your answers to these questions in a manner that flows/coheres.
What kind of message does his or her profile picture send?
What is he doing in the picture? (looking at the camera? smiling? laughing? holding anything?)
What is he wearing in the picture?
How does your comedian address his audience (as in is he nice? mean? aggressive? stand-offish? jovial?)?
What kinds of jokes does he make? (insults? snarky comments? word-play?)
What subjects does he most often joke about?
How does he address his audience/followers?
Are Tweets written to/directly addressing his audience or are they just observations thrown out to the Twitterverse?
Does he insult people?
Does he respond to his followers' Tweets?
Does he "re-Tweet" his followers Tweets?
How does he seem to use Twitter primarily (for promotion or to Tweet jokes)?
Who is his audience and how big is his following? (You may want to browse through his followers or make a case for who his audience might be based on what he tweets about)
thinking back to the first reading for the course - is this comedian a "negative exemplar" or a "spokesperson"
What attitudes/values do his Tweets reflect?
Do you have a sense of his political beliefs?
What aspects of society/life does he critique?
How does he describe himself in his tag line?
Does he Tweet about personal things or major events?
Does he Tweet about celebrities?
Does he Tweet about current events?
Given the things he Tweets about, do you think he has the credibility or authority to do so? Why or why not?
Can you identify some ways in which your comedian builds goodwill or demonstrates that he is "trustworthy?"
Why would you want to listen to this comedian?
Directions for turning in a Storify piece:
1. Create a wiki page in your student folder titled "lastname-date-RS3-Storify"
2. On the page, provide a link to the piece on Storify or insert the embed code onto the page
3. (Optional) Post a link to your project on the class blog
Explicit instructions on how to post your link:
1. make sure your project is "published" before you try to share the link
2. make a page in your wiki folder titled: "lastname-date-RS3"
3. on your published Storify project, there are options to "share," "email," and "embed" - click on the "embed" link and copy the code
4. on your wiki page (when you're in the "edit" screen), click on the "insert" drop-down menu in the formatting toolbar
5. select "HTML/JavaScript" and paste the embed code into the pop-up screen that comes up, then hit "next," and then agree to "insert plugin"
6. save the changes to the wiki page, then test the link
Evaluation Suggestions:
I created a standard rubric and then offered comments in paragraph form. I posted my feedback to the student's wiki page (where they submitted the assignment). There was no grade given, since I was evaluating based on the Learning Record.
[ ] Makes a clear assertion about the comedian's ethos
[ ] Makes an assertion about the comedian's audience/followers
[ ] Addresses the content/type of comedian's tweets
[ ] Identifies (some of) the comedian's values represented in tweets
[ ] Offers visual analysis of profile picture
[ ] Offers explanation and analysis of tweets (doesn't just let them "speak for themselves")
[ ] Tweets are framed/introduced effectively (not just dropped in between analyses)
[ ] Project is effectively organized and information synthesized (conceptually vs. chronologically)
[ ] Sufficiently robust assessment (meets length/thoroughness expectations)
[ ] Writing relatively free of grammatical error
Notes on Reception, Execution, etc.:
My students seemed to enjoy the exercise, though several of them encountered problems with the technological aspects. It's important to point out to them the various toolbars/functions of the Storify interface and to make your own expectations clear in terms of how you want the information presented/overall goal of the assignment.
Course Description:
I implemented this assignment in my intermediate rhetoric course, RHE 309K Rhetoric of Stand Up Comedy, though it is easily adaptable to a number of other topics. For my course students analyzed the Twitter feed of a comedian of their choosing, but this same approach could be used for any public figure/author. I'm including my abbreviated course description.
Beginning in the 1950s and 60s, pioneers of comedy such as Lenny Bruce and Dick Gregory tackled issues of civil rights and liberties, opening the door for future generations of comics to criticize society and oppressive government policies. By the 1970s, George Carlin and Richard Pryor turned stand-up comedy into one of the most subversive forms of popular rhetoric. Now, late night monologues and "fake" news shows increasingly shape public understanding of world events and political figures.
This course examines how comedians use humor to advocate positions in public controversies, to construct notions of group identity, and to criticize public figures – essentially, how they use humor to persuade. If laughter is a sign of persuasion (a question we will explore together), we will think through why audiences do or don't laugh, are or are not persuaded by a text. We will think and write critically about what makes comic performances compelling, focusing closely on the relationship between performers and their audiences. We will track how the purpose and message of texts changes as jokes move across media and venue in the digital age, looking at a wide range of sources - from comedy albums to HBO specials, from YouTube to Twitter. Fundamentally, we'll be asking whether these performances encourage audiences to re-think their ideological and political values, or if humor simply reinforces the beliefs that audiences already hold: when are we laughing with, and when are we laughing at, and, most importantly, (how) can we know the difference?