You are here
Using Photoshop to Create Persona-Avatars for Class Blog
Primary tabs
Submitted by

OyP

on Thu, 09/06/2012 - 13:00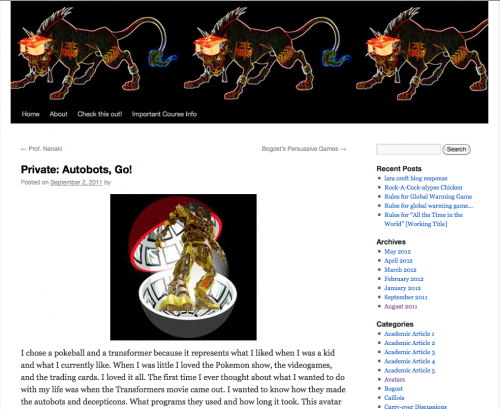 Brief Assignment Overview:
This lesson uses Photoshop to manipulate creative commons images found on the Internet into an avatar which represents the persona or ethos from which the student will write on a course blog.
Pedagogical Goals - Rhetoric:
Pedagogical Goals - Digital Literacy:
Additional Pedagogical Goals:
Allow students to develop a sense of self on the class blog; an ethos-creation project which facilitates better (because more committed) class conversation.
Required Materials:
Adobe Photoshop
Google Images
Timeline for Optimal Use:
Full Assignment Description:
First, I deploy a little litmus test and ask the students, "Who has used photoshop before?" A couple hands go up. I ask of these, "Who knows how to use the selection tool and how to select layers?" Most hands lower, but about four or five stay up. I distribute these students evenly amongst the class. The beauty of this lesson (as with many which involve teaching students how to use a new program) is that it depends upon peer instruction.
I give a short (fifteen minute) lesson to start class. I discuss creative commons, point towards the GoogleImage filter "labeled for reuse" and the condition "modification," and show the students some online resources to find images (such as, http://archive.org/). Then I show them how to save the image to the desktop, bring it into Photoshop, rasterize if necessary, select what they want, and delete the rest.
I tell the Photoshop-familiar students that in addition to creating their own avatars they must also address their peers' problems and help them learn the Photoshop basics. I say that I hereby deputize you to act as mini-instructors for the day, and then I encourage the other students to make use of their peers' knowledge, not to let these deputies "do it" for them but rather make the deputy show you how to do it yourself. After
Suggestions for Instructor Preparation:
I recommend that the instructor have some familiarity with Photoshop before attempting this assignment. Best way to do that is to make an avatar of your own; once you get selecting, rasterizing, and sizing (and maybe some theme manipulation), you're good to go! You'll also need a course blog. You can check mine out here: http://texastalksvideogames.wordpress.com
Instructions For Students:
Today's assignment is to create a 'gravatar' for your profile. Think of this image as your calling card on the blog. (If you'd prefer not to make a gravatar--since it links up to your email and shows up anywhere you post to the internet while signed into that email--make an avatar image, but don't upload it to your profile. You should still complete the second part of the assignment.) You'll need to use Photoshop to combine at least two images, resize the image, and upload it on your profile.
Next, write a post and tell us, in about one hundred words, why you selected and made your avatar as you did. Title the post with your username, and upload an image of your avatar in the body.
Click here if you'd like some more pointers on selecting images in photoshop.
Evaluation Suggestions:
I grade this assignment on the basis of completion. I require all students to upload the image in a post which explains its significance to them.
Notes on Reception, Execution, etc.:
My class is composed of juniors and seniors and were very responsible about helping one another with the new technology. I myself learned some things about Photoshop as concerns arose (such as why you need to rasterize certain images to manipulate them). The students stayed on task and really got into making persona for themselves. The class I use this for is about the rhetoric of video games, so my students are probably predisposed to like the idea of creating an avatar, but the lesson should port well to any class with computers in the classroom, which uses a blog and is interested in digital rhetoric.
Additional Resources:
Computers in the classroom; Adobe Photoshop (CS4, CS5); should also work with opensource photoshop programs
Course Description:
RHE309K, The Rhetoric of Video Games investigates how video games make arguments. For instance, does BioWare's 2010 Mass Effect 2 argue that as long as cultures remain distinct, constant warfare is a law of nature? Does the game then suggest that a more peaceful world can come only through the assimilation of all cultures into one? Or does the game argue, conversely, that a multicultural nation's greatest resource is its capacity for tactical alliances between identity groups, and that the assimilation of one culture by another therefore weakens the union? As these questions indicate, even commercial video games make serious arguments about the world in which they are produced, exchanged, and played. In this course, we use the skills of rhetorical analysis to investigate how and what video games argue. We will pay special attention to procedural rhetoric in games and analyze how games model economies, geopolitics, war, even interpersonal relationships. In order to better understand the effects as well as premises of games' arguments, we research the critical controversies about video games, and we consider the audiences games address. Finally, students use the skills developed over the course of the semester to conceive of and propose persuasive games of their own.