You are here
Close Reading YouTube and Cultural Archives
Primary tabs
Submitted by

Rosen

on Wed, 08/22/2012 - 19:58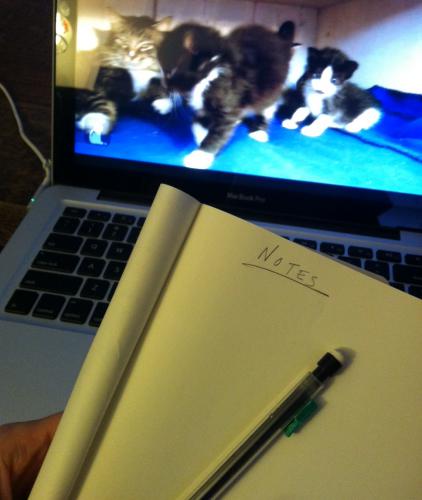 Brief Assignment Overview:
Start close-reading on day one by using YouTube videos and considering their archives.
Pedagogical Goals - Literature:
Additional Pedagogical Goals:
This assignment is meant to introduce close reading immediately, explain some course objectives, and get students "reading" and discussing on the first day.
Required Materials:
media console with projector
Timeline for Optimal Use:
Full Assignment Description:
My course description (see above) sets up a false dichotomy between watching YouTube and reading books. In reality, my syllabus features many works which reimagine literary texts by remediating them—in video, film, and more. We are especially concerned, in this class, with works that pull from the queer archive in order to make new art. On the first day, we used some YouTube videos to practice close reading and think about the ways in which the archives used in a text—or a video—affects our reading of it.

We watched Dan Savage's original "It Gets Better" video, in which he and partner Terry tell stories about youthful struggle, love at first sight, adopting a son, family vacations, and achieving acceptance. We also watched the music video "Reading Rainbow" by the Lost Bois, in which A. O. and her musical partner, B Steady, remix the theme song to "Reading Rainbow" and rap about their intellectual formation from children's books to queer literature to black feminist theory. Students were asked to take notes, paying particular attention to the archives each video uses.

After the videos, students offered items from their notes and I rewrote each very different archive on the board. Once notes were on the board, students were asked to answer a prompt about one video in small groups, using that video's archive to inform their response. Half the room discussed one video, the other half discussed the other. After discussing in small groups, students reported to the class, some already offering rather sophisticated close readings on the first day!
Suggestions for Instructor Preparation:
Since this exercise was designed for the first day or early in the semester, I suggest choosing video which provide a bridge between students' prior knowledge and the content of the syllabus.
Instructions For Students:
[The following instructions were explained in class.]

Watch the following videos and take notes. Try to write down as many elements of the video's archive as you can. If it uses stories, what kind; if it uses texts, which ones; if it uses music, what music? In addition to noting the archive, write down any other thoughts or questions that occur to you as you watch.

[After watching and taking notes, students were given the following prompts:]

The short version of the argument in Dan Savage's video is, simply, "It gets better." But if you had to summarize the argument in a paragraph instead of a sentence, what would you say? Use your reading of the video's archive to help expand on its message or argument.

The chorus in The Lost Bois' song includes the phrase, "I ain't nothin' but a lost boi." Clearly, "lost" is a key term in this song and for these artists, but "lost" is a term with several meanings. In this song, what does "lost" mean and what are the qualities of being lost? Use your reading of the video's archive to support your answer.
Evaluation Suggestions:
Students had a chance to report their answers to the class, and came up with some great readings. There was no formal evaluation, but I pointed out how the most successful readings used prior knowledge and intertextual readings to support their claims. For example, The Lost Bois' video includes footage from Disney's Peter Pan, and one student used her knowledge of the "lost boys" in that text to support a reading of "lost" in this one.
Notes on Reception, Execution, etc.:
This activity went over quite well. The videos could be quickly read and discussed within a first class meeting. The strategies we used would carry over to our readings and the videos would remain a point of reference for later discussions.
Course Description:
In 2010, Dan Savage began a viral video campaign when he and his partner posted a video to YouTube promising a viewing audience of gay, lesbian, transgender, and bisexual kids that life "gets better." The project's uncritical positive attitude has received critique from some queer intellectuals and kids, but it has also inspired videos from prominent LGBT people and allies, and given some viewers suffering from discrimination and heartbreak a sense of community and hope.
Before YouTube, queer people read books. In fact, reading, writing, and critiquing literary works has long been an occupation of queer-identified people. Literature can build community and offer hope, but it can also reflect the complexities of queer lives and relationships, transform transgressive pleasures into art, and analyze the histories and ideologies that often keep things from simply getting better, in spite of Savage's promise.
In this course, we will examine the specific features of literary works that enable them to do all this, and that have long made them an important part of queer culture. Students will develop skills — close analytic reading and creative critical writing — that will help them succeed in upper-division courses across campus. This class is therefore recommended for English majors and non-majors alike. Readings include canonical and popular literatures, as well as some music, film and new media, and scholarly articles that will inform our approach.